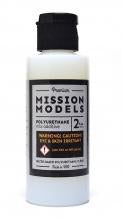 Mission Models - MMA-001 Polyurethane Mix Additive 2oz
MMA-001 Polyurethane Mix Additive
2oz
Made in the USA.
Add just a couple drops of the Polyurethane to your thinned paint.  Just one or two drops is all you need. The Poly greatly increases flow from your airbrush on top of the already amazing flow and leveling of the paint. The results are further leveling , durability , increased sanding capabilities and will also add a very light eggshell finish. When spraying straight from the bottle with out thinning your paint add one or 2 drops and adjust your PSI accordingly. You can pull ultra fine lines.   Figure painters add a drop for slower blending. Adding too much polyurethane  will cause the paint to dry much slower. Do not add Poly to the Mission Models Primer. Remember less is more. 
Example: If you have 20 drops of paint in your epoxy mixing cup add 2 drops of poly. We advise hand mixing VS shaking
Store between 50-75F. Do not expose to extreme heat or direct sunlight and do not allow to freeze. Mission Models Poly is a temperature sensitive product like that of many other products in the hobby and industrial market.  Poly can be kept in your fridge if needed as an option.  Please note that some chemicals do not have an indefinite shelf life.  Some chemicals will breakdown over time like that of CA glues , Epoxy resins etc.  This includes polyurethane.  Mission Model poly will last a long time when properly taken care of.  Mission Models can not take responsibility for improperly used or stored products. 
Check our FAQ section for usage instructions and tips.


  www.P65warnings.co.gov
Mission Models is not responsible for any duty, VAT, customs, taxes or other fees on the receiver's end.
---
We Also Recommend